Sedonan to be featured on 'American Pickers'
David Vincent Mills always valued his father's artwork and wishes more people could too. Now he's getting this opportunity while making a few dollars.
Last December, a friend of Mills and his wife Jen Valencia said they saw a flyer from the Sedona Chamber of Commerce saying that the longtime TV show American Pickers was looking for potential tips in the area.
The History Channel show premiered in early 2010 and features Mike Wolfe and Frank Fritz, a pair of Iowa antique dealers. They travel the country and exchange various collectibles with people, which they refer to as "rusty gold". In turn, they resell the items in their two stores and online.
David Vincent Mills shows works of art by his father John Mills in his Sedona home. Photo by David Jolkovski / Larson Newspapers
Mills, a local musician, was asked to contact the show and then gave a brief overview of his father's work. To his surprise, a representative from the show conducted a brief telephone interview the next day. They contacted Mills again a week later and one of the show's producers came out to check what Mills had shared with them. The whirlwind continued into February and Mills was one of the few stops the show made while filming in Arizona.
"I was a little shocked and very excited," said Mills. "I had high hopes that it would be interesting enough that they would come and see it. I'm kind of familiar with the show and I've watched it enough to know that they like to go to places with large barns or storage areas that have been there for a while. They like to crawl around and discover what they can find. In that sense, I was an unusual choice. "
The Mills episode will air on Monday August 3rd on the History Channel.
Mills' father John Mills, who died in 1989, was a Korean War trumpeter and fighting musician before becoming an artist. In fact, there is a large painting in Mills' house from the time his father and bandmates met Marilyn Monroe while on a USO tour. He took a photo of her and later used that photo to paint her picture and talk to the others in the band.
The younger Mills knew Fritz was a big fan of Marilyn Monroe. He thought if nothing else, his father's painting and original transparencies from that day might be enough catches to pique the show's interest. That turned out to be unnecessary. Due to back surgery while the crew was in Arizona, Fritz did not make the trip and was replaced by Wolfe's brother Rob.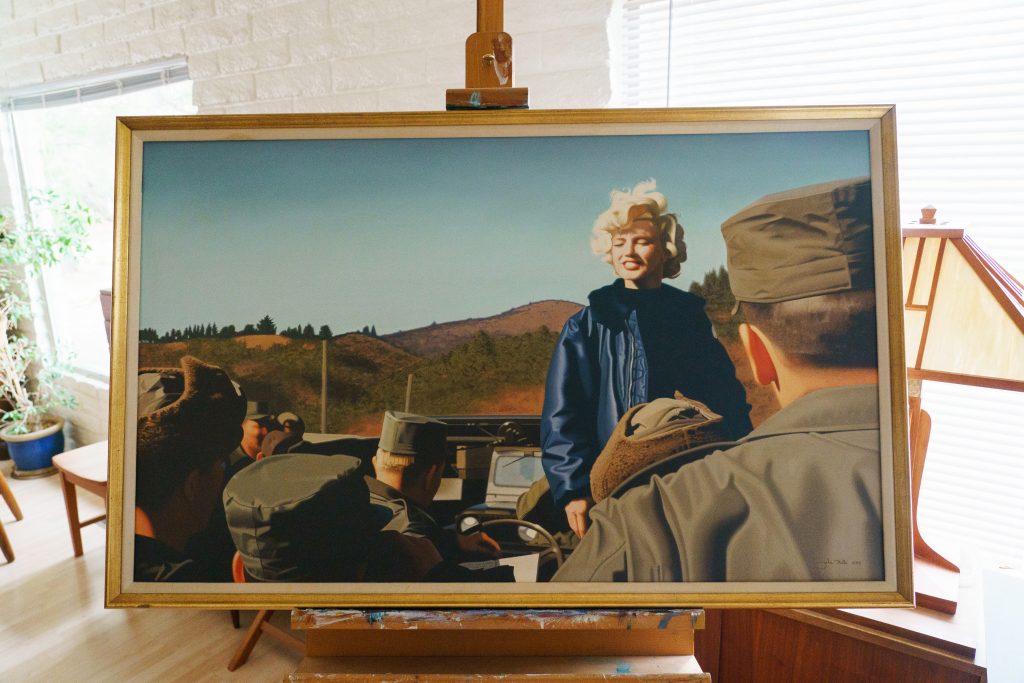 Painting by John Mills. Photo by David Jolkovski / Larson Newspapers
In terms of the professional production of art, John Mills began in Detroit in the late 1950s, where many automakers were based at the time. At that time, the catalog for a company's vehicle line contained paintings that were later replaced by photographs. Mills drew renders for some of the top companies like Chevy and GM, not just for their catalogs, but also for billboard and magazine ads, including Life.
"He was told if he could paint the chrome of a car, he could paint anything because that's one of the hardest things to do," Mills said, pointing to the reflection of the chrome on the cars in his father's work .
In the 1960s, as television grew in popularity, Mills said his father's talent was needed less when automakers began slashing their artistic budgets instead of television advertising. It was at this point in time that photography became the norm for car catalogs and advertisements at a reduced cost.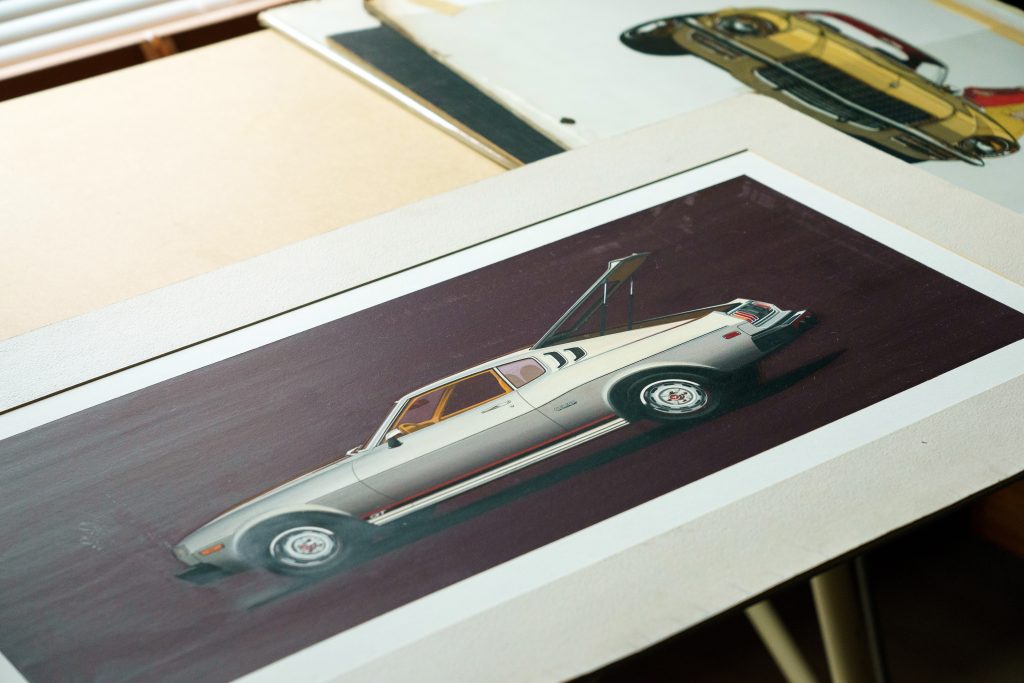 Artwork by John Mills. Photo by David Jolkovski / Larson Newspapers
For the next decade, John Mills worked as a freelance illustrator for food manufacturers and set out to do more in the visual arts in the 1970s. Many of his pieces now adorn the walls of the younger Mills' Sedona home.
"He's done a lot of landscapes, but for the last few years he's focused on jazz portraits," he said. "His work appeared in a few galleries in San Francisco and New York, but when he died it was pre-internet so his work is not very present online."
Regarding why he now felt it was a good time to sell some of his father's artwork, Mills said, "I know I'm biased, but I think my father was a talented artist and I was think the world should see his work. I have 40 to 50 of his pictures and hundreds of his sketches. I can't keep everything and deserve to be seen and enjoyed by others. So it's not a financial thing, but it's more that his work gets known and he is recognized for the talented artist that he was. "
To support this, Mills created a website that features his father's work on johnmillsartwork.com.
It was John Mills 'artwork for the automakers that caught the Wolfe brothers' attention. Mills has some of the original pieces his father painted for the catalogs and advertisements. Mike Wolfe eventually bought seven pieces of the car artwork while Rob Wolfe bought his father's Ford pickup in 1948. How much they paid – well – you have to tune in to see.
"I found some of his contemporaries' work to get an idea of ​​how much I wanted to ask for his work," said Mills. "There's a market for advertising arts, so I had a price upfront. And they do their own homework beforehand too. They were very fair with their offers. In fact, I got more than I expected. "
When the American Pickers crew showed up, they brought about 10 people and were there for almost 12 hours filming. The average selection airs on the show for around 15 to 20 minutes.
"At the end of the day they did an interview with me and after 12 hours I was fried," said Mills. "For one thing, it was emotional talking about my father's work and doing my best to pay homage to him. But it was a really good day. They couldn't have been nicer or more professional. "